This post was written for WOW(Write over weekend) at Blogadda and won the WOW Badge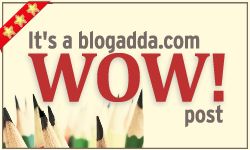 'I can't get the image out of my head'. It was the worst day of my life when catastrophe caught me unattended. Nobody would be prepared for such a day.
10th January 2004. Me and my wife along with my five year old daughter were going from Delhi to Lucknow for my cousin's wedding. The train was six hours late. It was the time of the year when fog bumps off the entire transport system in most of the parts of North India.
My wife is visibly upset over missing one of the wedding functions as now we won't make it in time. Even the temperatures are hitting the bottom worst at this hour, making the wait seem longer and more painful. In her rage of frustration she is scolding Riya. I can understand and I know that no words would pacify her right now. At least not mine as I could not take one day more of a leave and reach Lucknow with the buffer time. Anyways, I can only leave her alone for now. I took Riya to get her favourite burger so that at least she is happy.
Finally we board the train at midnight. Settling on our reserved berths, we soon retired for the day. The train would not reach Lucknow before morning at this speed so we can comfortably catch up our sleep. But near about in an hour, we were thrown out of our seats amidst a thundering
noise
which was followed by heart rendering cries of the people. The bogie had turned upside down and as there was no light in the cabin I was clueless in which direction should I move. I could hear my wife and Riya calling for me, but, I was not able to reach them.
"Disha can you hear me? Is Riya with you?" I shouted with all my strength. I didn't know how far they were from me.
"No Harsh. Riya where are you?" cried Disha.
Our seats were next to the door, but with us mobilized from our places I didn't know where was I. There were co-passengers stuck on top of each other crying for help. It was pitch dark outside, and gushing sound of water which could be heard was making the situation clear to me. "Water is entering the cabin". "The bogie has entered into some river". Someone shouted. "Try to climb up and reach for the door. Do it fast before we all drown".
I could make out that I am near the door which is upwards. The numbness of death approaching can only be felt.
"Disha and Riya try to come near the door. Do you hear me?" I shouted again, but mine was one of the voices in the entire tumult. Going by my sixth sense, I started moving up. There were others trying to do so. There was a growing suffocation in the cabin. With the passage of time, the sounds were getting reduced. "God, save us. We all are going to die." There were cries all over.
I somehow reached the door which was luckily opened. My heart was racing uncontrollably. I did not remember when I started crying. There was a hope that I will survive, but there was no happiness. I was constantly shouting for Disha and Ria. While I did not hear the voice of Ria but in between could hear Disha crying for Ria and calling for me.
As I reached the top, my heart sank with the visuals of mayhem all around. There were people who followed me. I jumped into the ice cold waters and waited for my family to make out successfully of the doomed fate of Delhi – Lucknow Rajdhani. There were people who kept jumping into the waters but there were others stuck inside the cabin. I could see hands jetting out of the sinking windows. I reached near the cabin and shouted for Disha and Ria but could not hear anyone responding back. In the meanwhile there were many people shouting from the water. Those who managed to get out of the ill fated cabin but were about to surrender to another captor. They could not swim. I saw a similar hand going down in the water. I immediately swam near and tried pulling her out of the water. The woman was unconscious, but I had hope that she would survive. As I brought her to the banks I jumped back again to rescue some more drowning people if I could. I don't know when I was taken over with that brandishing strength. While I had lost hope of finding my family I was on a mission to save some lives.
That night, I lost my family but could save 5 lives. The accident has left horrifying memories behind and today also when I hear the whistle of a train, "I can't get the image out of my head". I left my job of a banker and joined the crisis management company of the city with a drive to save as many lives as possible during any calamity.